Hall of Shame: UK Area Codes Home to Most Spam Calls
Despite our valiant attempts and efforts to block spam phone numbers, it seems us Brits still can't escape the scourge of nuisance callers. With Google Trends data showing that searches for 'who called me uk number' have risen by 160% in the last 12 months, it's clear that the problem isn't stopping anytime soon. But which area codes are most common amongst the numbers being considered as spam? To find this out, we conducted a data study which answers this very question.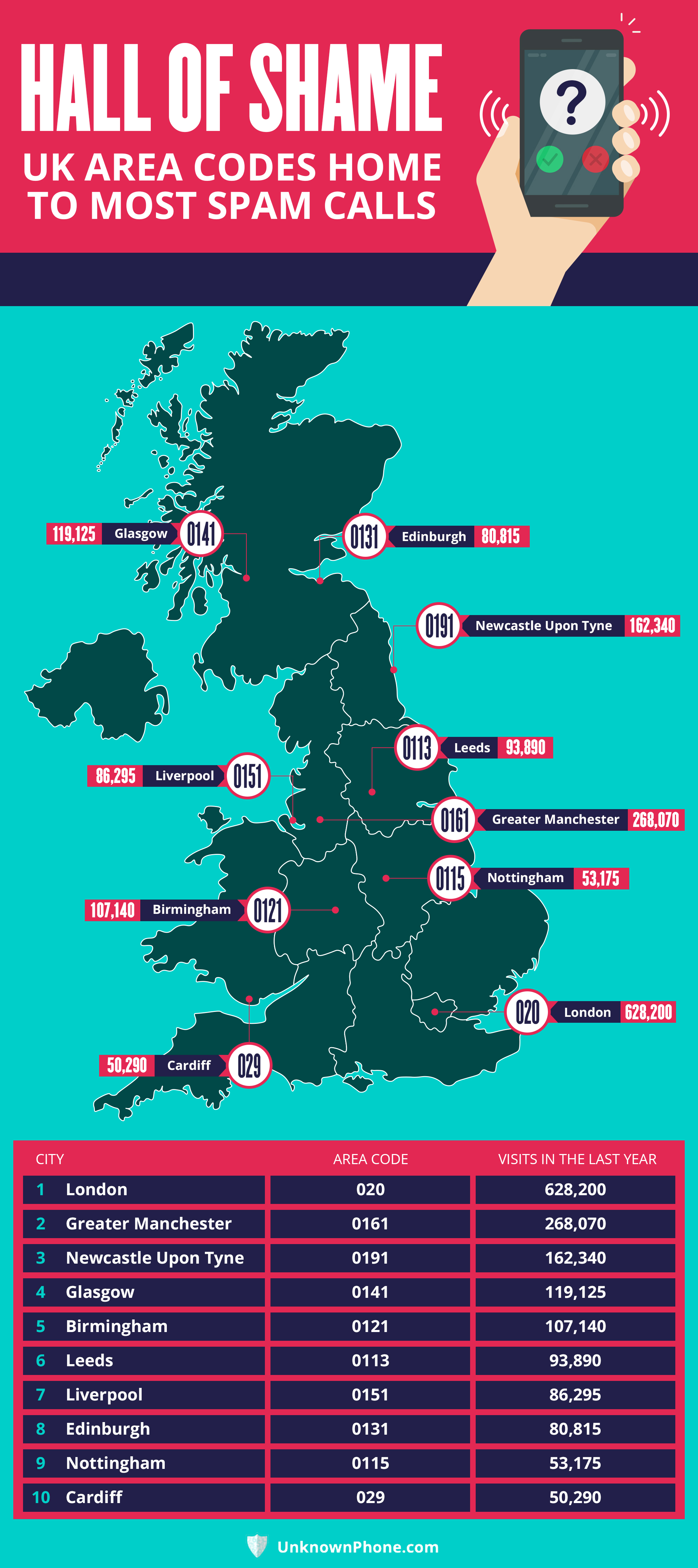 The Top 3 Area Codes with the Most Spam Numbers
Leading with 628,200 visits in the last year, numbers starting with the London area code of 020, exhibited the most spam-like behaviour.
Greater Manchester follows behind with 268,070 visits occurring for numbers starting with 0161. Some of the most common spam related activity being reported on Unknownphone.com for this area code include: debt management, lottery and boiler scams.
Taking third place for the area code with the most caller spam activity is 0191, with visits for numbers from this location in the last 12 months totalling 162,340. This area code covers Newcastle and its surrounding areas including cities such as Durham and Sunderland.
Tips to Avoid Falling Victim to Spam Calls
Alberto Edroso Jarne the CEO of Unknownphone.com, has provided his top three tips in the hope of helping people avoid and reduce the number of spam calls they receive:
1. Talk to Your Service Provider: If you frequently receive phone calls from unsolicited numbers, try talking to your phone line provider and reporting the numbers. Most phone companies can provide free services and advice to help block unwanted calls or reduce nuisance calls.
2. Register with Telephone Preference Service (TPS): Once you register with TPS they will add your number to a list of numbers that don't want to receive sales and marketing calls. It's against the law for sales people from the UK or overseas to call numbers registered with TPS
3. Install a Call-blocking App: Such apps are able to intercept and answer calls for you, so that they are unable to get through and annoy or expose you to a scam. Many of these apps also actively collect data on spammers, blocking them permanently once identified, so you're helping not just yourself but also others who are using the app.
Methodology of study
1. Unknownphone.com sought to find out which area codes across the UK appeared most commonly in numbers being searched by Brits for spam-like activity.
2. Using Google search console, they scraped the search data of their site over the last 12 months for over 100 UK area codes.
3. The data for each area code was exported into an excel sheet where incomplete phone numbers were removed, to avoid anomalies appearing in the data. The number of visits for each complete number searched for each area, was then totalled to provide the total number of visits for each area code in last year.
4. Taking the total number of visits for each area code in the last year, this was then ranked from highest to lowest to provide us with the cities most exhibiting spam-like behaviour.
5. Data was collected in October 2021 and is accurate as of then, please find the full data set here.